THIS WEEK… we have miter saw fights, Ryobi power stations, a mower head 2 head, this insane Japanese toy, and the world's first EGO Z6 RC. This is your Power Tool Week In Review.
Welcome back power tool fans, we're going to start off this week at 731 Woodworks, where Matt decided to put two popular miter saws in the ring to see which one comes out on chop.
731 Woodworks | Miter Saw Head 2 Head
Matt owns both of these miter saws, which he feels are easy contenders for the miter saw crown, but instead of setting up a series of tests, Matt takes his time covering the tiny details that either make you love or hate a saw. His goal wasn't to test which saw could cut through a board fastest, but instead he took a deep dive into things like Deflection, the hold-down clamps, Cut capacity, soft start, and even warranty.
The insights into each saw that Matt offers, are the kind you could only get from someone who has extensively used both saws to actually get work done. And while there are several things he doesn't like, he still makes a great case for either saw, depending on your own needs. That, and he really likes the soft start. Before you buy a proper miter saw for your shop, be sure to stop over at 731 Woodworks.
Torque Test Channel | Understanding Impacts
The torque testing team over at torque test channel put together a compilation of just about every Milwaukee Impact, but it's not the tools that caught our eye, but the graphs.
TTC has set out to not only show you what each Milwaukee impact can do, but more importantly, help you understand which impact to choose for yourself, based on the jobs you have to do. To do that, they created this simple chart, that shows you exactly how much torque you'll need to get specific jobs done. As they review their previous findings on each tool, they find it's location on the chart, and then talk about all the kinds of jobs you can tackle with that specific tool. Because of this, there is FAR more information worth learning than just the current stats on Milwaukee's offerings. Highly recommend you watch it.
Sparky Channel | Cable Staplers from DeWALT and Milwaukee
The new Milwaukee M12 Cable Stapler isn't something everyone will need. But for those of you who do, Bill is easily the most qualified to tell you if it's worth your time.
To do so, he decided to compare it to his DeWALT 20V MAX cable stapler. At first glance, these two are far more similar than they are different. But after using them both to secure a wide variety of cables, it became obvious that while the DeWALT holds the cables up, it doesn't hold them in place. The Milwaukee however, does seem to hold the cable in place, without damaging it, which is not only "up to code", but a welcome feature to a lot of the electricians in the comment section. And of course this is significant because the depth guides are not adjustable on either tool, so you're gonna get the fit it provides out of the box. Bill seems very happy with both staplers, and in the end, leaves it up to his commenters to choose the winner. So if you're interested in the staplers, head over to Sparky channel.
Tool Box Buzz | Cordless Lawn Mower Head 2 Head
The crew at Tool Box Buzz set out to once again gather a ridiculous collection of tools, a hardened crew of tool testing professionals, and determine once and for all, which thingy is the best dohicky of all of the things! This time, that thing is a cordless mower.
Except this time, they weren't looking for an ultimate winner. Because as they point out, mowers can be better at small yards, big yards, or even a commercial field. So after gathering a staggering 14 cordless mowers from the likes of EGO, DeWALT, Kobalt, Makita, Milwaukee, Skil, and more, they found a creative way to organize their results, so you can figure out which mower is best for YOU and your lawn, which means you get to choose YOUR winner.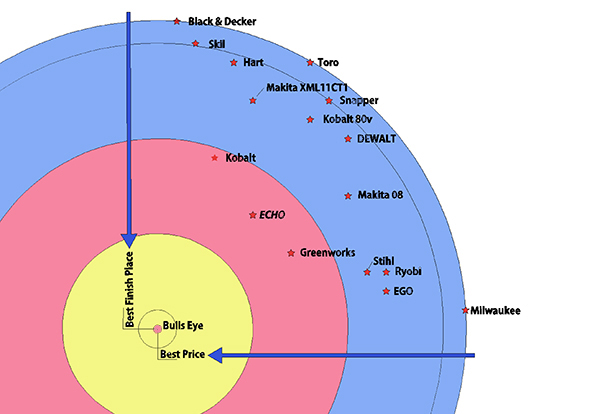 But first they had to test Noise, runtime, speed, ergonomics, handle comfort, maneuverability, you get it. But when they were done, they created this clever bulls-eye chart, that takes into account it's testing score, and it's price. That made it easier to see the real value in some of the middle-of-the-pack mowers like the Echo, Kobalt and Greenworks. Really digging this way of reviewing tools! You can watch the full video at Tool Box Buzz, and get even more detailed info at the article at toolboxbuzz.com.
Tools & Stuff | Simpson Strong-Tie Collated Connector Nailer
There are some tools that are just satisfying to use. Speaking of, take a listen…
THAT, is the Simpson Strong-Tie CCN 64, Collated Connector Nailer. It's a nailer specifically built for joist hangers and hurricane ties. And it doesn't just sound pretty. It works. And to prove it, Tools and Stuff put it to work himself. He also took the time to take a closer look at the Simpson Strong-Tie Joist Hangers, Hurricane Ties, Structural Screws and more. I've never done any framing myself, but I'm telling you, that nailer just about has me convinced to start on a summer home of my own. This thing is very similar to a palm nailer, which are also very satisfying to use. But if you're going to be handing a ton of joists, this may just be a better option. For the full review head over to Tools And Stuff.
Shop Tool Reviews | RYOBI Power Station
If you've watched Belts and Boxes before, you know we're big fans of inverters powered by power tool batteries. We've tested a bunch of them in the past, but this week Tim got his hands on one we've yet to see in person.
THAT is the Ryobi RYi1802BT 40V 3000W/1800W continuous Power Station with bluetooth. And with 4 6ah 40v batteries, it will have the same juice as Milwaukee's new M18 Carry On with a full set of 12ah batteries. The Ryobi's numbers are a little bit lower, at 1600w vs the M18s 1800, but it also has a lot of fancy consumer focused features like the detailed LCD screen, double the USB ports, a utility light, and even an app that allows you to monitor and control it remotely.
To demonstrate it's capabilities, Tim built this ingenious little testing rig, loaded with switches and halogen bulbs, making it easy to watch the power station work harder and harder, until it finally overheats. He also hooks it up to a 1-ton portable Air Conditioner, and it handles it like a champ. Suddenly I don't mind camping in 90 degree weather. Then just when you're convinced that Ryobi has a winner on their hands, Tim shows off the new 40V unreleased batteries, which go up to a staggering 12AH, which assuming you could afford them, would give you double the capacity of the Milwaukee. Heck yes. If you still haven't purchased an inverter yet, the Ryobi is clearly worth the look, and you can get your best look over at Shop Tool Reviews.
The Lawn Care Nut | Stens Power Rotary Scissors
I love finding tools I've never seen before, and this week our buddy Allyn, better known as the Lawn Care Nut, showed off this insane Japanese Rotary Scissor head, and yup. I need one.
That's the Stens Power Rotary Scissors, and when it's installed on the end of an EGO Power head it's a fantastic replacement for a bladed stick edger, and Allyn found a bunch of other uses for it as well. And while it seems pretty affordable at around $300 bucks, that's just for the blade. To put it to work you'll need an EGO power head, and a sacrificial attachment like their string trimmer, just so you can install it. That brought his total cost to $425. So what do you get for your money? A decent replacement for a string trimmer that won't mar any surfaces, and a really good edger, that can perform some ridiculous tricks, like this one… Yup, he's rounding over the edge of his grass. Allyn is a really nice guy, but I would HATE to be his neighbor. My yard would always look like crap compared to his. Look at it. His lawn has a round over…. He also discovered that it was fantastic at edging uneven blacktop surfaces like those found at the Freedom Factory race track. Yes THAT freedom factory, owned by none other than Cleetus McFarland. To find out if this crazy pair of scissors should be your next OPE purchase, head over to The Lawn Care Nut.
Machinery Nation | EGO Z6 RC
Last… but by no means least.. Is this thing. YES, that's James, and yes, that's a remote controlled EGO Z6 zero turn mower. In a build video they posted this week, James walks us through the entire conversion process, which he kept incredibly clean, presumably so he wouldn't destroy a $5,000 mower.
And while watching him build it, and test it is super fun as you'd expect, he hints at a series of upcoming videos, including one where he will have someone in another country is going to control it remotely… YES. It's me. I'm gonna drive it, and I'm already freaking out. I fully intend to spell out Rob Rocks in his yard. But we'll see what it can do. Anyways the build video is hilariously fun to watch, and the next few videos in the series, you will NOT want to miss. So head over to Machinery Nation, and GET SUBBED so you don't miss a single one.
Production Crew Shelves Update
Quick update on our $2,000 prize shelves, we still haven't filled our 4th shelf. We have our Makita one, The Rob Robillard Tool Box Buzz shelf with a bunch of cool Milwaukee tools, and our new SKIL 40V OPE and LEGO shelf, but the 4th is still on it's way. But no matter which one our winner chooses, there's not point having pro tools without pro accessories, so each shelf is fully stocked with Spyder bits, blades and more. If you'd like a chance to win, click "join" next to the subscribe button and find out how you can be a part of our Production Crew!
I wan't to thank EGO and Ohio Power Tool for sponsoring this episode, guys, we couldn't do it without you. If you can do something kind for someone else this weekend, and we'll see you next week.