Welcome back Power Tool Fans, we've got a HUGE week of power tool news! We've got new tool announcements from Makita, Milwaukee, Ryobi, HART, and DeWALT. Plus we have another PLATINUM Tool Deal, that will only work for 25 people, so be ready to punch it in as soon as it's on screen! THIS is our power tool week in review!
Welcome back! We're going to kick things off with an announcement from RYOBI that absolutely had our jaws on the floor.
RYOBI LINK Modular Storage Update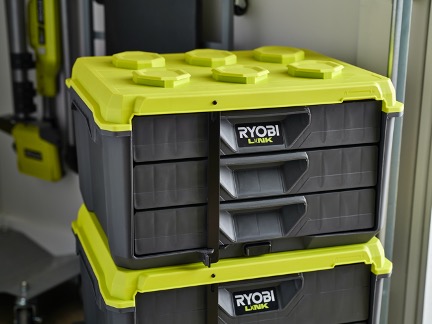 First up, they revealed an expansion to their popular LINK Modular Storage System, Which we previously detailed here. The latest additions include a long awaited 3 drawer tool-box with full extension ball bearing slides, 40lb load capacity, and an organizer divider set, all for $139.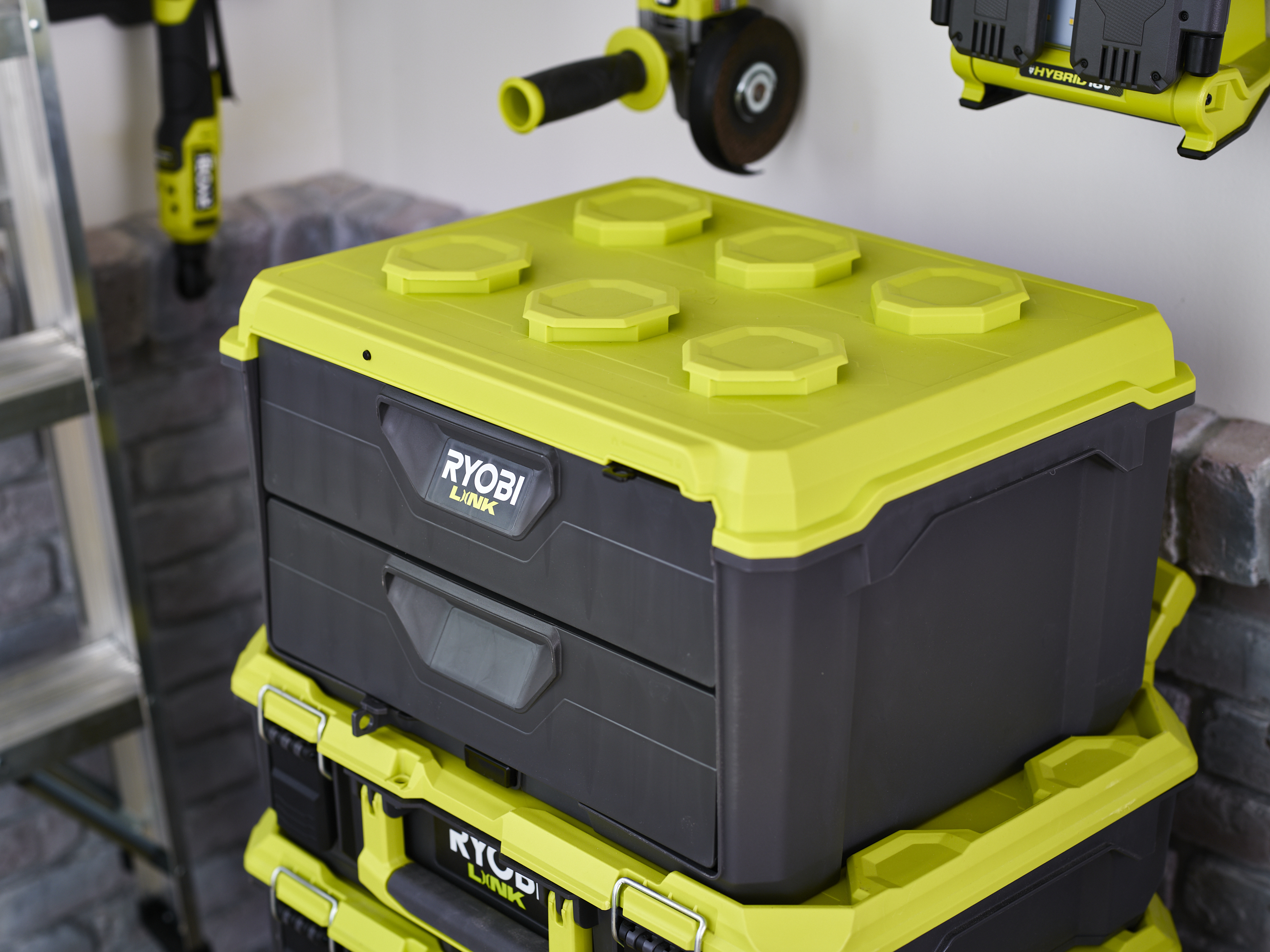 But if 3 drawers is a bit much, they also announced a 2 drawer version with the same stats, for $119.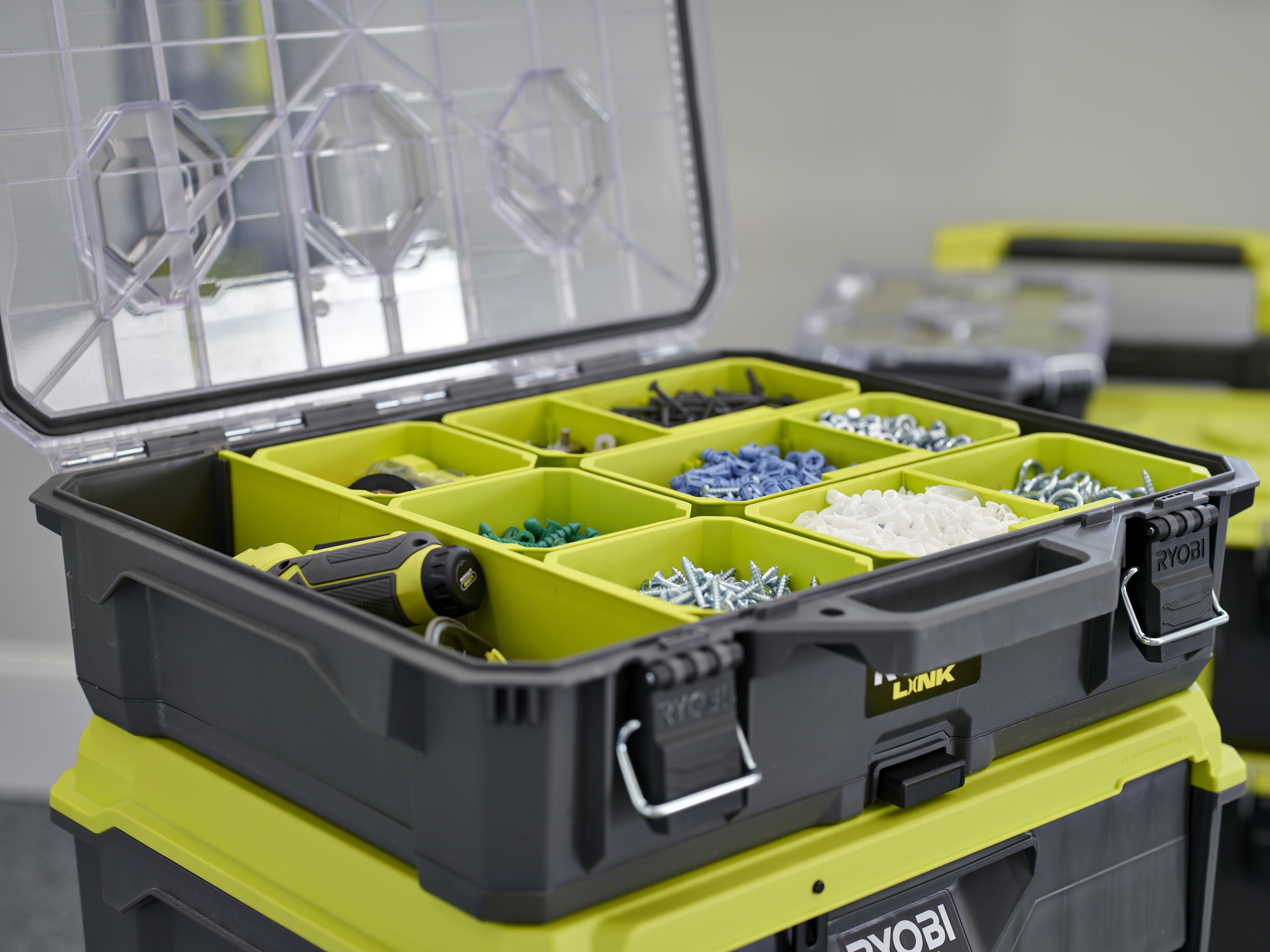 And for those of you with a bunch of small parts and fasteners, they have a new small parts organizer with a 50lb capacity, ip65 rated, and a bunch of individual and double storage bins for $44.97.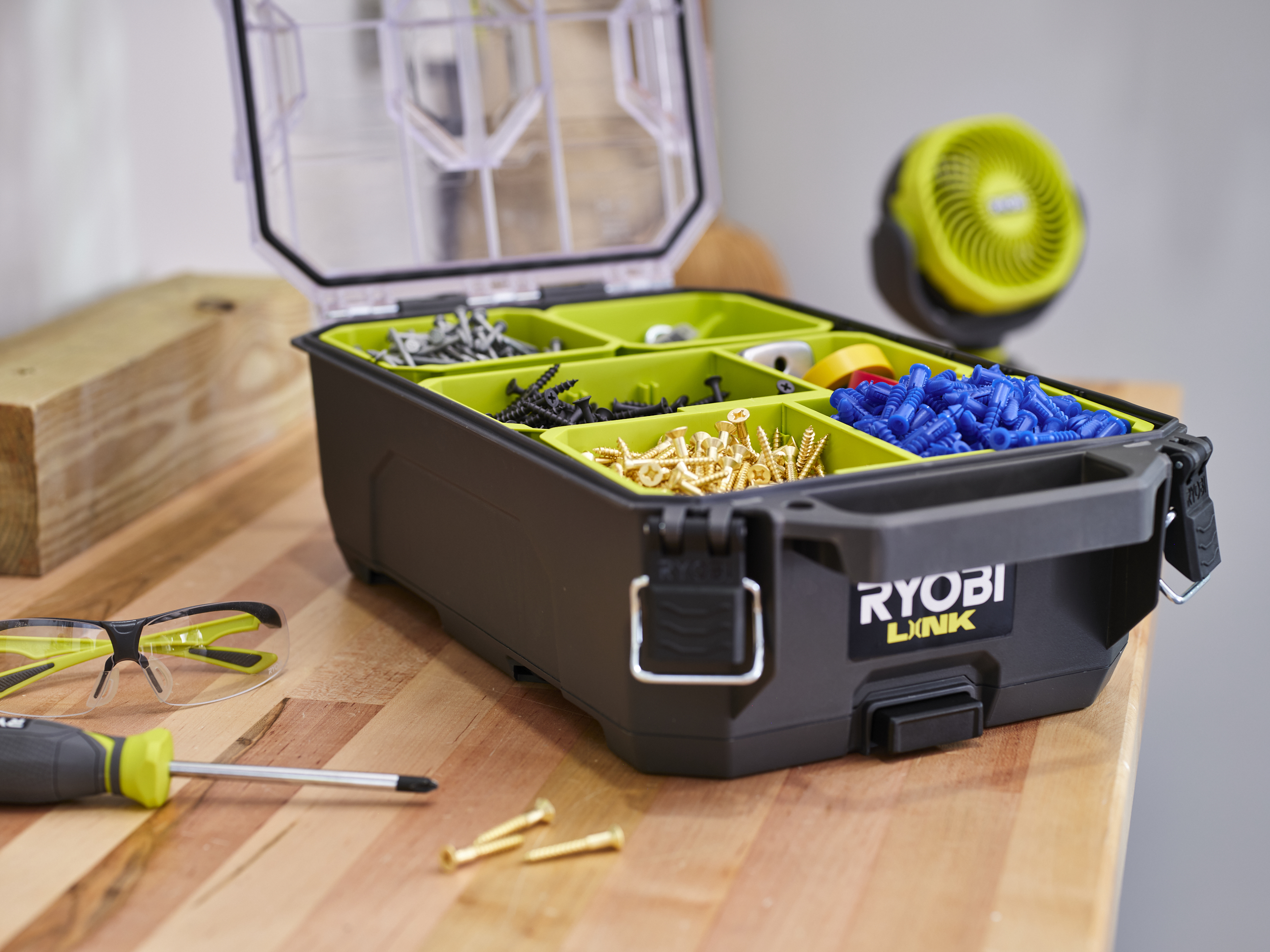 But if you have fewer… small parts… there's a new Compact Small Parts Organizer as well for only $29.97. They also added a new Roller Base that we're really excited about with a 200lb capacity, lockable casters, and built in tie down points for $69.97.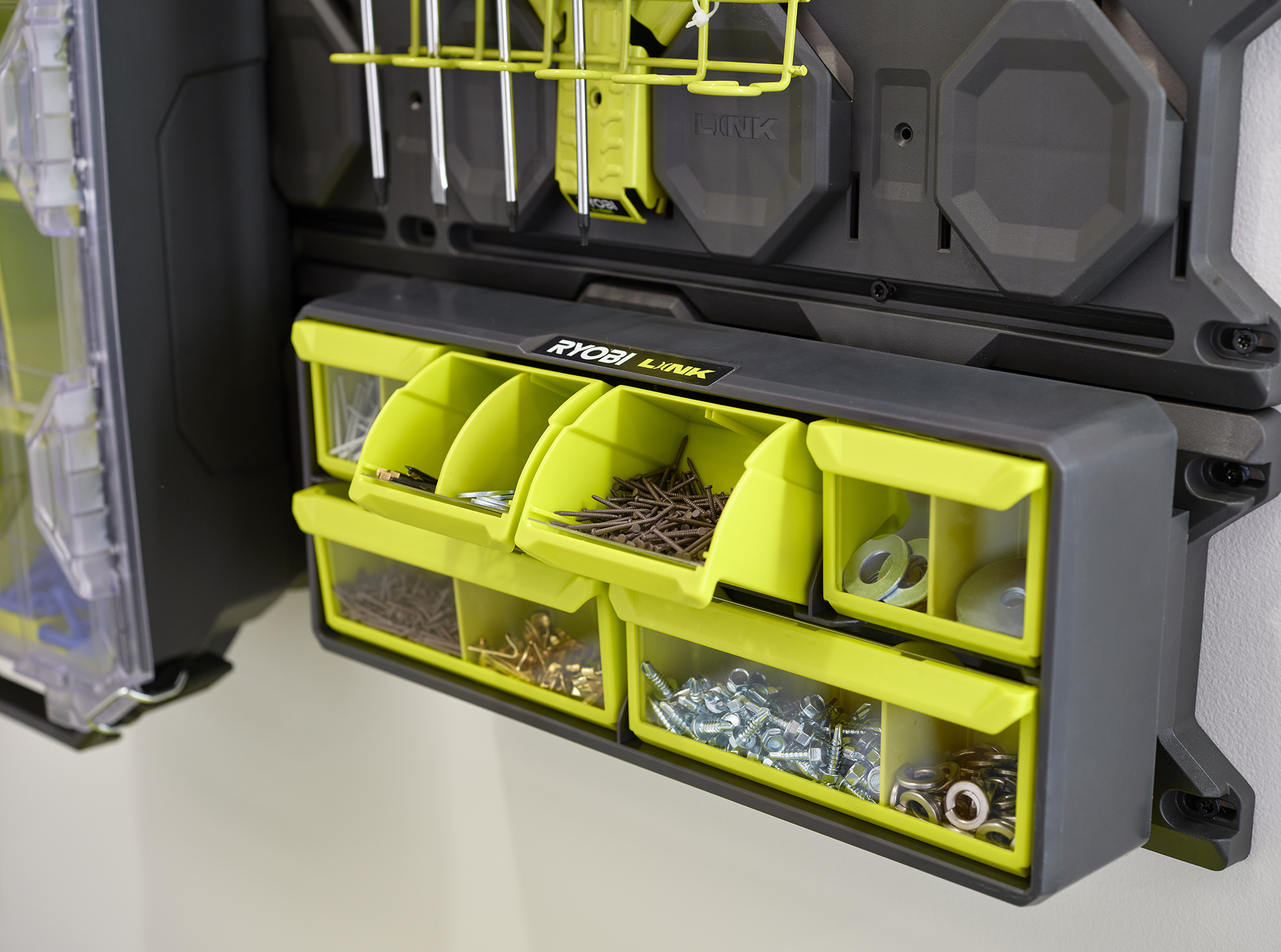 But that's not all, they also showed off a new Wall Small Parts Organizer for $24.97, a reversible clamp hook for $6.97, and a customizable drawer tool box foam insert for a merciful $12.97. 
Makita Top Handle Chainsaws!
Let's take a break from Ryobi and check in with Makita, who had a TON of new tools announced. Starting with these three new Top Handle Chainsaws specifically for arborists. Each one a 40V XGT model, with the power equivalent to a 30cc gas powered version. They come in a 12", 14", and 16" bar. 
Makita Connect X Backpack Blower
Makita also revealed their new Connect X Backpack Blower which Sarah and I got to try at STAFTA last week. That is the CBU02 36V ConnectX Backpack Blower – With the power of a 64cc gas backpack blower, with 671 CFM, 157 MPH, variable speed trigger and cruise control. The ConnectX battery on our back has the capacity of 13 5ah 18V batteries in it. 
DeWALT Impact Connect System
DeWALT officially announced their new IMPACT CONNECT System, starting with a copper pipe cutter, and a PVC/PEX pipe cutter, that attach to your impact driver, just like their nibbler from a few years back. The copper pipe version cuts 4 times faster than a Lenox tubing cutter kit, and the 360-degree rotation lets you cut at any angle. The PVC version cuts 6x faster than a LENOX Ratcheting cutter, and it too rotates 360 degrees. While both are optimized for use on 7 different DeWALT impacts, they claim to adjust to nearly about any brand impact. 
RYOBI Powered Snow Shovels
Ryobi also announced a pair of powered snow shovels, just in time for winter, starting with the RYOBI 18V ONE+ 10in, which obviously clears a 10 inch path of snow up to 6in deep. It claims to toss the snow up to 20 ft away, perfect for residential applications.
Weighing in at only 12.3 lbs, it'll be easier for most users to get the job done. But if you have wider walkways or need to throw your snow 5ft further, Ryobi has you covered. This is the Ryobi 40V 12 in wheeled snow shovel, which yup, clears a 12" path, tossing the snow 25ft away. The two-speed trigger provides better control, and the dual wheels in the back make it much easier to maneuver. Coming out this month, the 10" will cost $139 bare or $199 with a 4ah kit, while the 12" will cost $249 bare, or $329 with a 4ah kit.
RYOBI Framing Nailers
But the really big news from RYOBI, was the announcement of their first Framing Nailers. First up, the RYOBI 18V ONE+ HP Brushless 21 degree Framing Nailer, the PBL345. It claims to drive up to 3 ½" full round head nails.
The airstrike tech powering the nailer means no compressors, hoses, or gas cartridges are needed. It has a Selectable drive switch with single, sequential, and contact actuation modes. A Tool-free depth of drive adjustment for proper setting of nail heads, and an Onboard air fill valve for field serviceability. It also includes a much needed Integrated rafter hook, and features a Shock Absorber that protects the battery.
Then there is the RYOBI 18V ONE+ HP Brushless 30 degree version, model PBL350, which has all the same specs as the 21 degree. Both nailers will be available sometime in 2023, for $329 each, as a bare tool.
Production Crew Update
Before we get to even more tools from HART, Makita and Milwaukee, we have a quick note about our Production Crew. Every month we randomly choose a channel member, call them live, and let them choose a shelf with over $2,000 worth of power tools on it.
Which is something we did last night! But next month, to celebrate the holidays, we'll be going live at 8pm EST on December 12th, to giveaway our two remaining shelves for the year. And besides giving away over $4,000 worth of power tools, we'll also have a TON of power tool giveaways for anyone in our live chat, including full kits from our Production Crew Sponsor, Spyder, so be sure to put a reminder on your calendars for December 12th, at 8pm, and we'll see you then.
HART New Tools
HART launched a new 4v tool series, including a handy screw driver, a powered cutting tool for all those blister packs, and yes, it comes in a blister pack for extra irony, and a new rotary tool we've been using for carving. Each one recharges by USB-C, which we greatly appreciate.
HART also revealed several new additions to their whole-house battery platform, which Sarah and I were able to see ourselves at a recent HART event. There were second gen versions of their drill drivers, impacts and impact wrench, featuring much smaller form factors and bigger power.
HART also showed off this new Heated Blanket and I was a BIG FAN. The blanket is a huge 54 x 60", with two heating zones, 3 heat settings, all in a 100% polyester, material that's comfortable, perfect for outdoor use, yet washer and dryer safe. At $160 it's about the same price as one of their heated jackets. 
But the most anticipated new tool from HART, is their Trim Router. We've been using this thing ourselves over on our Maker Break channel, and we really like it. It tops out at 29,000 rpm, has an easy-to-use macro and micro-adjust dial for depth control, and an LED light that actually illuminates your work. It has a ¼" collet, and a dust chute for dust collection. The best part is that this super useful tool is only $88. Well worth it. 
Makita's NEW LXT Tools
Back to Makita, they expanded on their 18V LXT line with several new tools, including the XPH16 LXT 18V ½" Hammer Drill Driver, which boasts 970-inch pounds of max torque, but it's only 6 ⅞" long, and weighs only 4.9lbs with a 5ah battery.
This is the XRJ08 LXT Brushless One-Handed Recip Saw – perfect for overhead or tight spaces. The Loop-shaped handle guard offers extra protection and improved tool rigidity. It claims 40% lower vibration than the previous model, and will make up to 90 cuts in 2×10 lumber on a 5ah battery.
This is the XCM01 LXT Brushless 3" Cut-Off Tool. It runs up to 20,000 rpm for fast cutting. It's Ergonomically designed for one-handed operation. Depth of cut adjusts up to ⅝" when using the dust collection cut-off guard, and features both forward and reverse operation. 
This is the XRT02 18V LXT Brushless Deep Capacity Rebar Tier. It will tie a #8 with a #7 rebar. It can complete up to 5,300 ties of #3 x #3 diameter rebar on a 5ah battery. It has 2-mode operation for single or continuous wire tie actuation.
And finally the XCU11 LXT Brushless 14" Rear Handle Chain Saw. This compact rear handle design powers up to 1,520 feet per minute speed, and makes up to 73 cuts in 4×4 cedar on a 4ah battery, while weighing in at only 9.3 lbs with battery. 
Makita's NEW XGT Tools
Moving on to MY Makita battery platform of choice, the 40V XGT Series. First up, the GML01 XGT 20" Commercial lawn mower. It's a 21" Self-Propelled, offering a premium cut from a high vacuum lift. It has a Commercial grade steel deck, and can cut up to 1 ⅕ acres of grass in 108 minutes with 2 40v XGT 8ah batteries. 
This is the GCU04 XGT 18" Chainsaw, boasting the power of a 42cc gas chain saw, completing up to 40 cuts through 12" cedar with a single XGT 5ah battery. It has Captured bar nuts retained in the sprocket cover for easy setup. There's also the GCU06 XGT 18" Chainsaw who's specs are the same as the 04 but no mention of captured bar nuts.
This is the AC001GM1 XGT 2-Gallon compressor.  They call it a quiet series, and they're not joking. We played with this at STAFDA last week, and at only 68db, it was indeed tranquil. And at only 22.9lbs, it was incredibly light as well. It'll deliver 700 2" brad nails on a single 4ah battery.
This is the GSH05 XGT 6 ½" Circular Saw. It has a Super compact in-line design. A Magnesium base for lower weight, and makes up to 290 cuts in 2×10 SPF on a single 4ah battery.
And last of all, the GDT02 XGT Brushless 4 speed Impact Driver. It's powerful, high torque and speed, aimed at efficient fastening, this is an important tool for Makita, where their impacts enjoy a near legendary status. Can't wait to get our hands on this one.
Makita's New accessories!
Makita also announced 21 new Starlock accessories. They include Blades optimized for use with Makita brushless multi-tool for cutting and sanding wood, metal, masonry, drywall and many other surfaces. They are easy to swap out, and color-coded based on the types of materials they're intended for, making it easier to grab the right one. 
Milwaukee Announces 2 New Bandfiles!
And last but not least, Milwaukee announced two new Bandfiles for the M12 platform. THIS is the 2482 M12 FUEL ½" x 18" Bandfile, and the 2483 M12 FUEL ⅜" x 13" Bandfile. Each one claims best-in-class spot weld removal rate. Both have 2 speeds, 1,800 SFM and 3,600 SFM, leading Milwaukee to claim pneumatic performance without the hassle of hoses, cords, or routine maintenance.
When equipped with a M12 XC 4.0 battery, users can remove up to 50 spot welds using the 18" Bandfile and up to 40 with the 13". Both have forward and reverse functionality, lock-on capability, and a 360-degree tool-free arm rotation to make it easier to get to the job. They also have variable speed triggers, and led lights so you can see your work get done. 
Both bandfiles will hit the shelves this January for $249 each bare with a couple of belts included.
Platinum Tool Deal!
Every week we work with our friends over at Ohio Power Tool to offer an EXCLUSIVE tool deal, just for our viewers. Each one comes in the form of a coupon code that will only work 25 times, and then it retires. That's why we launch each week as a premiere, so everyone sees the code at the same time. 
This week's code is a fun one. All you have to do is purchase $100 worth of any Milwaukee product in stock, and our code will get you a free Milwaukee 52-piece SHOCKWAVE impact duty Bit set worth $40, AND a Milwaukee 9pc Hole Dozer Kit worth $55, for a total of $95 in free accessories!
The code you need to use is right here. So if you were going to purchase $100 worth of Milwaukee tools this month, you can use that code to get $95 worth of free Milwaukee accessories, but you have to be fast. Good luck!
Thank you!
We want to thank EGO and Spyder for sponsoring this episode, guys we couldn't do it without you.
If you can, be kind to someone else this weekend, and we'll see you next week!